Arena Mall (Arena bevásárlóközpont)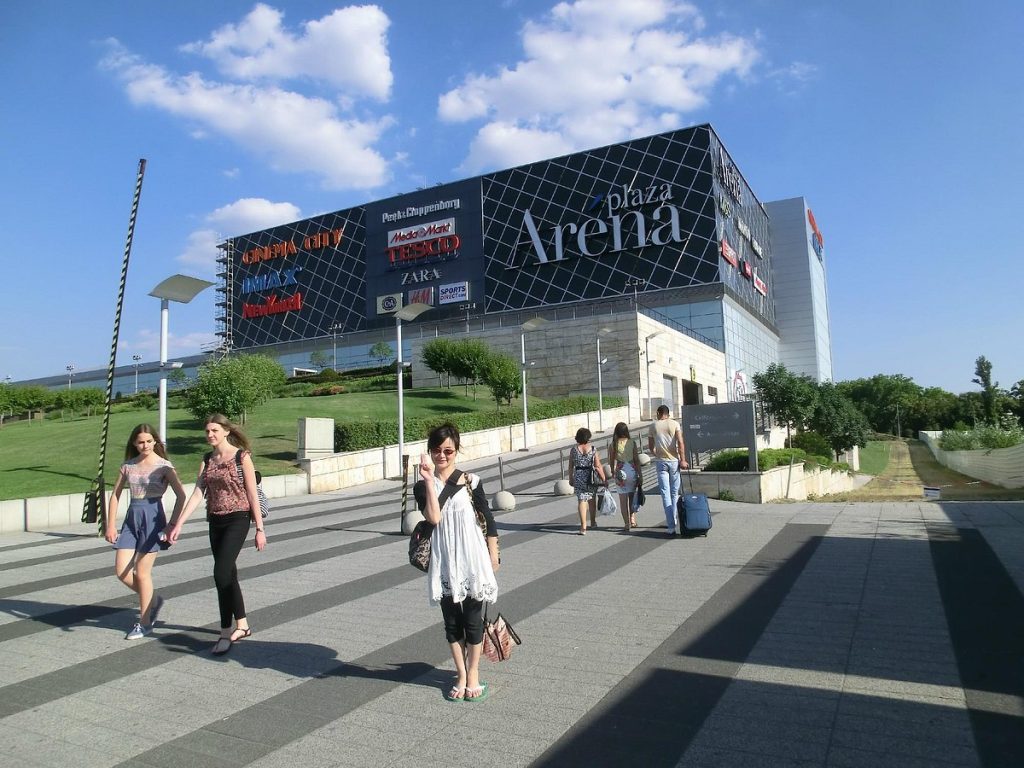 Arena Mall: Budapest's Shopping Haven
Overview
Situated on Kerepesi Road, Arena Mall, formerly known as Arena Plaza, is not just a shopping center – it's an experience. As the largest mall in Hungary and Central Europe by floor area, this retail giant is a marvel of modern architecture and consumer culture. Developed by Plaza Centers B.V., a company with Israeli-Dutch interests, Arena Mall has been a staple of Budapest's retail landscape since its grand opening on November 15, 2007.
What Makes Arena Mall Unique?
Arena Mall is a trifecta of retail, entertainment, and art. With over 64,000 square meters of rentable retail space housing more than 200 stores, you'll find an array of high-end brands that cater to every shopper's fantasy. The mall also features a two-level, 11,000-square-meter Tesco hypermarket for all your grocery needs.
For entertainment, the mall offers a 3,000 square meter fantasy park, a 23-screen Cinema City, and an IMAX theater. Art enthusiasts will appreciate the art gallery focusing on fine arts and antiques.
Brand Diversity
The mall has been instrumental in introducing new global brands to Hungary, although it predominantly features brands that have already made their mark in the country and other malls.
Accessibility and Layout
Accessibility Score: 5
Layout Score: 7
Product Range Score: 9
Restaurant Score: 6
General Vibe Score: 7
Overall Score: 6.8
The Arena Conspiracy
While the mall's location may seem inconvenient, it's the only place in Budapest with an IMAX theater. Some people are willing to splurge on VIP rooms with free food, and during winter, the ice rink outside the mall is a great alternative to the long queues at City Park. It's worth the trip despite its distance from Keleti Railway Station and the sports arena. The mall offers an unparalleled variety of stores, even more extensive than WestEnd Mall, making it worthwhile.
Pros:
A wide variety of stores and an extensive product range.
Exclusive features include an IMAX theater, ice rink, and even a rooftop terrace for a romantic escape.
Free parking, when available.
Spacious interiors make for a less claustrophobic shopping experience.
Cons:
The mall's location is less than ideal.
Limited parking can be a significant drawback.
The dining area is surprisingly limited, with a few tables crammed into a small space.
Whether you're a local or a tourist, Arena Mall offers something for everyone. It's not just a place to shop; it's a destination. So why not make a day of it? After all, Arena Mall is where Budapest comes to shop, dine, and be entertained.
Monday
10:00 am - 9:00 pm
Tuesday
10:00 am - 9:00 pm
Wednesday
10:00 am - 9:00 pm
Thursday
10:00 am - 9:00 pm
Friday
10:00 am - 9:00 pm
Saturday
10:00 am - 9:00 pm
Sunday
10:00 am - 7:00 pm
Contact Information for Arena Mall (Arena bevásárlóközpont)