Árkád (Árkád bevásárlóközpont)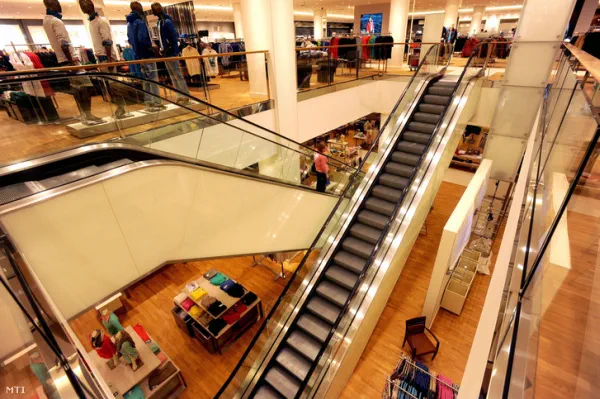 Árkád: The Modern Shopping Oasis in Budapest
Overview
Nestled on the Kőbánya side of Örs vezér tere, Árkád stands as one of Hungary's most modern retail complexes. With the addition of Árkád 2, this shopping center has solidified its place among the city's larger complexes, offering a unique blend of local and international brands.
What Sets Árkád Apart?
Árkád boasts a selection of stores that are few and far between in Budapest, such as Gap. From fashion and gadgets to many shoe stores, Árkád has something for everyone. The layout is straightforward, making it easy to navigate, but be prepared to clock some serious steps if you're on a shopping spree.
Ratings
Accessibility: 9
Layout: 8
Product Range: 9
Restaurants: 6
General Vibe: 8
Overall Score: 8
Amenities
The mall features a small Spar at one end and a large Interspar at the other, accompanied by several bookstores, a Media Markt, and many fashion brands. There's a toy store and even a dedicated Lego store for the little ones.
The Crowd Factor
Árkád's popularity can be a double-edged sword, especially during the holiday season. If you plan to grab a bite between shopping, expect to hunt for a table between noon and 3 PM, much like hunting for a parking spot downtown.
Why Choose Árkád?
Located at a major transportation hub, Árkád is easily accessible by both public transport and car. Its diverse range of stores makes it worth the trip, even from afar. If you're in the market for fashion, whether casual or sporty, Árkád is the place to be.
Pros:
Spacious yet well-organized layout.
Excellent accessibility.
Cons:
Crowds can be overwhelming due to its popularity.
Whether you're a local or just visiting, Árkád offers a shopping experience that's hard to match. Its wide range of stores and convenient location make it a must-visit for anyone looking to indulge in some retail therapy.
Tuesday
10:00 am - 9:00 pm
Wednesday
10:00 am - 9:00 pm
Thursday
10:00 am - 9:00 pm
Friday
10:00 am - 9:00 pm
Saturday
10:00 am - 9:00 pm
Sunday
10:00 am - 7:00 pm
Contact Information for Árkád (Árkád bevásárlóközpont)