Mammut (Mammut bevásárlóközpont)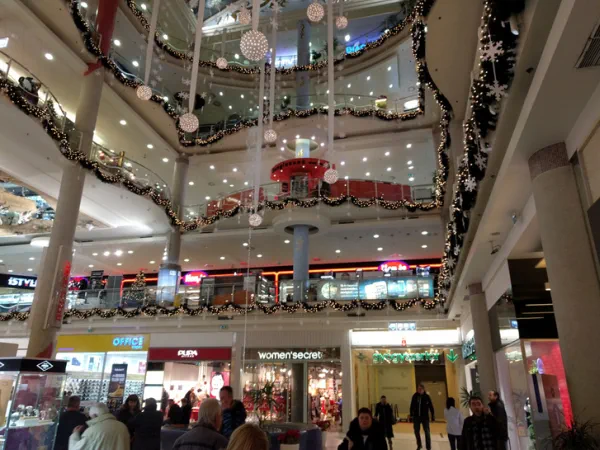 Mammut Shopping Center: The Urban Oasis of Convenience and Variety
Overview
Situated near the bustling Széll Kálmán Square, Mammut Shopping Center is a two-building complex that offers an extensive range of retail stores, gastronomic delights, and recreational activities. Whether you're looking for a children's playhouse, a bowling alley, or a fitness center, Mammut has it all. The mall is exceptionally well-connected by public transport, including the M2 metro line, trams, and buses. For those arriving by car, there are three parking garages to choose from.
The Crowd and Atmosphere
Mammut is one of the city's busiest malls, second only to Westend. While some may find it too "Buda-centric," it offers a more human-scale experience compared to the sprawling Westend. The mall is so well-designed that even with its extensive offerings, you won't find yourself walking miles to get from one end to the other.
What's Inside?
Mammut boasts a wide range of stores, not just limited to luxury brands. One of the standout features is the Marks & Spencer food department, which is unique in Hungary, although the brand plans to exit the market. The mall also houses a large post office with a ticketing system, ensuring you never stand in the wrong queue.
Ratings
Size and Navigability: 9/10
Accessibility: 9/10
Store Variety: 9/10
Dining Options: 8/10
Pros:
Central location and excellent accessibility.
A wide variety of stores within a relatively compact area.
A well-organized post office.
Dining options are spread out, offering a more intimate experience.
Cons:
Seasonal overcrowding can be an issue.
The only supermarket option is a painfully slow Spar.
Final Thoughts
Mammut Shopping Center is a well-rounded urban oasis that caters to a broad range of needs. Its central location, extensive offerings, and thoughtful design make it a go-to destination for both shopping and leisure activities. However, the mall could improve its supermarket options and manage seasonal crowds better to elevate the overall experience.
Monday
10:00 am - 9:00 pm
Tuesday
10:00 am - 9:00 pm
Wednesday
10:00 am - 9:00 pm
Thursday
10:00 am - 9:00 pm
Friday
10:00 am - 9:00 pm
Saturday
10:00 am - 9:00 pm
Sunday
10:00 am - 6:00 pm
Contact Information for Mammut (Mammut bevásárlóközpont)