Pólus Center (Pólus bevásárlóközpont)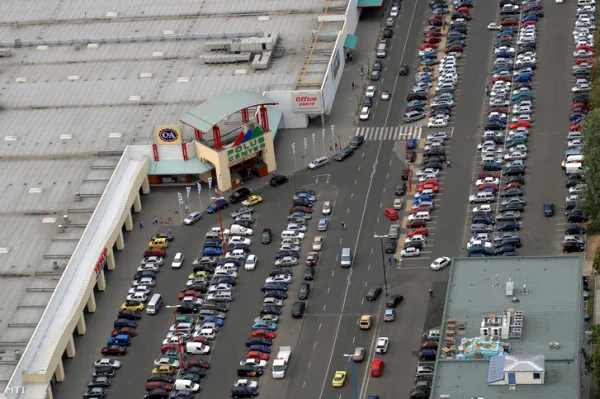 Pólus Center: A Nostalgic Blend of Old and New
Overview
Opened in 1996 as the second shopping center in Hungary, Pólus Center has undergone several renovations, the most significant of which occurred in 2012. Initially attracting shoppers from far and wide, the mall now primarily serves locals and residents from nearby agglomerations along the M3 motorway. Despite this shift, it still houses numerous global brands, especially during Black Friday sales. Pólus Center offers a range of entertainment options, including a cinema, a children's park, an ice rink, and various restaurants and cafes.
Accessibility
The mall is easily accessible by public transport, train, and car. It features a large outdoor parking area free for shoppers, although parking can be challenging during peak times like the weekends leading up to Christmas.
The Crowd and Atmosphere
Pólus Center holds a special place as one of the city's first malls, introducing Hungarians to the concept of shopping centers. It retains some quirky features, like an ice rink in the middle of the dining area, giving it a nostalgic charm. The mall is relatively large in terms of floor space but lacks multiple levels, categorizing it among smaller shopping centers. However, it houses some large stores like Tesco, Media Markt, and Sports Direct.
What's Inside?
The mall offers a balanced mix of retail and entertainment options. While it may not have standout stores that make it a must-visit destination, it does offer a range of smaller shops where you can stumble upon unique finds. It's a convenient spot for locals, providing various products and services.
Ratings
Size and Navigability: 7/10
Accessibility: 8/10
Store Variety: 6/10
Dining and Entertainment Options: 7/10
Pros:
The single-level layout makes navigation easy.
Offers all the essentials: books, gadgets, and gift sets are readily available.
Cons:
Parking can be problematic during peak times.
Public transport stops are not very close to the entrance.
Final Thoughts
Pólus Center is a community-focused shopping center that blends old-world charm and modern amenities. While it may not be a destination mall, it serves the needs of the local population quite well. Its single-level layout and variety of stores make it a convenient choice for quick shopping trips, although parking can be a challenge during busy periods.
Monday
10:00 am - 8:00 pm
Tuesday
10:00 am - 8:00 pm
Wednesday
10:00 am - 8:00 pm
Thursday
10:00 am - 8:00 pm
Friday
10:00 am - 8:00 pm
Saturday
10:00 am - 8:00 pm
Sunday
10:00 am - 7:00 pm
Contact Information for Pólus Center (Pólus bevásárlóközpont)