Allee (Allee bevásárlóközpont)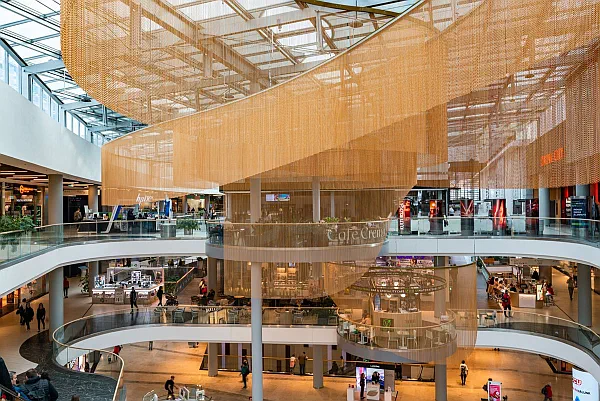 Allee Shopping Center: The Heart of Újbuda
Overview
Located in Újbuda, Allee is one of Budapest's most popular and frequently visited shopping centers. With a wide array of world-renowned brands and a plethora of services and entertainment options, Allee offers a comprehensive shopping experience. The mall features a multiplex cinema, grocery stores, a fitness center, and private parking. It also hosts cultural programs, contributing to the district and capital life. Free parking is provided for purchases above a certain amount.
Recent Renovations
Allee underwent a €18 million renovation, making it more diverse, green, and sustainable. The renovation began in 2020 and was carried out by Multi Corporation and funded by institutional investors represented by Allianz Real Estate and CBRE IM. The renovation aimed to maintain Allee's leading position in an increasingly competitive market. Post-renovation, the mall received an "Outstanding" BREEAM rating, making it the first shopping center in Hungary to achieve the highest BREEAM certification level.
Amenities and Services
Multiplex Cinema: A 13-screen cinema for movie enthusiasts.
Fitness Center: A well-equipped gym for health-conscious visitors.
Food Court: The renovated food court now has more restaurants and cafes, doubling the seating capacity to 750.
Art Installations: Eye-catching installations like the "Staccato" and an aluminum mosaic reinterpretation of three famous paintings by Szinyei Merse Pál adorn the atriums.
Sustainability: Nearly half a million euros were spent on sustainability initiatives aimed at carbon neutrality. The mall uses energy-efficient LED lighting heat-insulating films on the glass roof and is in the process of installing a 710-square-meter solar park.
Ratings
Size and Navigability: 9/10
Accessibility: 8/10
Store Variety: 10/10
Dining and Entertainment Options: 9/10
Pros:
Many stores, including some fashion brands, are making their debut in Hungary.
Strong focus on sustainability and environmental performance.
Excellent dining and entertainment options.
Cons:
The mall can get quite crowded, given its popularity.
Parking might be an issue during peak hours despite the 1,200 parking spaces in the renovated underground garage.
Final Thoughts
Allee is a testament to what a modern, sustainable shopping center should look like. Its recent renovations have improved its aesthetic appeal and commitment to sustainability, making it a leading example in Hungary's retail landscape.
Monday
10:00 am - 9:00 pm
Tuesday
10:00 am - 9:00 pm
Wednesday
10:00 am - 9:00 pm
Thursday
10:00 am - 9:00 pm
Friday
10:00 am - 9:00 pm
Saturday
10:00 am - 9:00 pm
Sunday
10:00 am - 7:00 pm
Contact Information for Allee (Allee bevásárlóközpont)