Pünkösdfürdő Beach Baths (Pünkösdfürdői strandfürdő)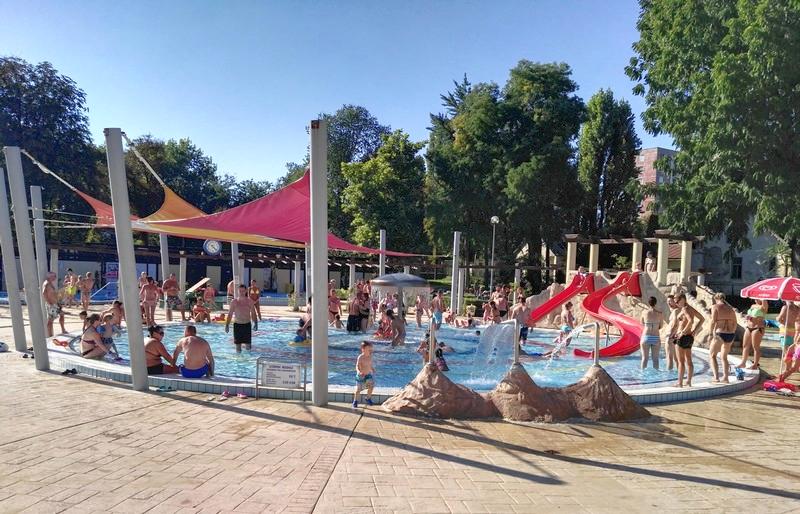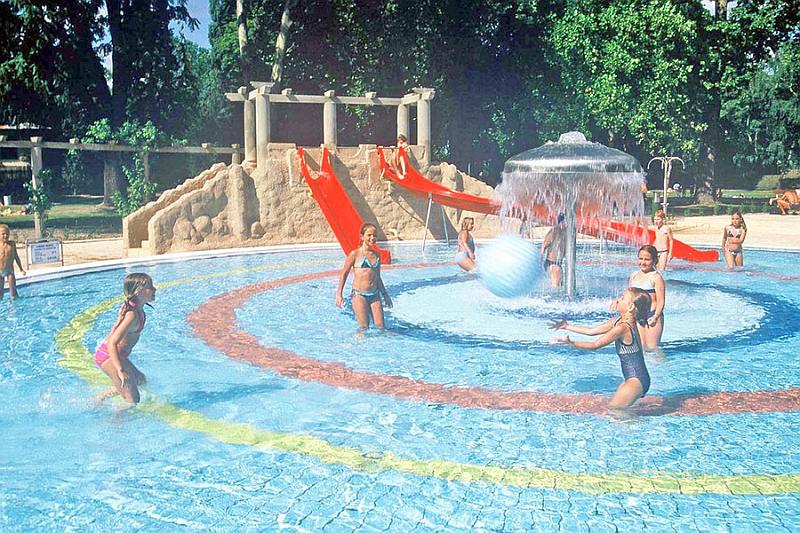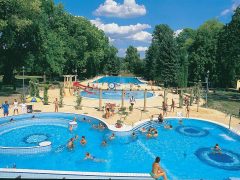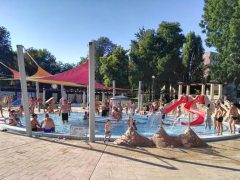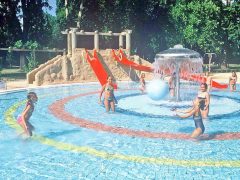 Pünkösdfürdő Beach Baths: Budapest's Historical Waterside Retreat
Pünkösdfürdő Beach Bath, nestled beside the iconic Danube, stands as a testament to Budapest's rich spa culture and heritage. Established in 1935, this historic bath was envisioned and designed by Alfréd Hajós, a renowned architect of his time.
The name "Pentecost Baths" (or Pünkösdfürdő in Hungarian) is intrinsically tied to the bath's inception. In 1934, a deep borehole was drilled along the Danube's shores. To the delight of many, this borehole produced lukewarm spring water precisely on Pentecost, giving rise to the bath's evocative name.
The Pünkösdfürdő Beach Bath not only enthralls with its history but also with its idyllic setting. The three pools, nestled amidst blooming rose gardens, cater to a diverse range of visitors. Whether one seeks a rejuvenating swim or a leisurely soak, the baths offer something for everyone. The verdant surroundings, interspersed with towering trees, further enhance the bath's allure, offering guests a peaceful retreat from the hustle and bustle of city life.
In the early 2000s, the baths underwent a significant transformation. During the 2002-2003 renovations, all the pools were updated with modern filter-rotating equipment. This refurbishment also saw the introduction of an adventure pool, a children's pool complete with slides, and a 25-person Finnish sauna, enhancing the bath's offerings.
The unique composition of the bath's water, characterized as calcium-magnesium-hydrogen carbonate warm karst water, further accentuates its appeal. Rich in minerals and therapeutic properties, it promises a holistic and healing bathing experience.
The Pünkösdfürdő Beach Bath remains an embodiment of Budapest's spa tradition, blending history, architecture, and nature seamlessly. It invites visitors to indulge in its warm embrace and experience a slice of Budapest's storied spa legacy.
Open: every day from 9 am to 7 pm until 3 September 2023.
Tuesday
9:00 am - 7:00 pm
Wednesday
9:00 am - 7:00 pm
Thursday
9:00 am - 7:00 pm
Saturday
9:00 am - 7:00 pm
Contact Information for Pünkösdfürdő Beach Baths (Pünkösdfürdői strandfürdő)