Metropolitan Ervin Szabó Library (Fővárosi Szabó Ervin Könyvtár)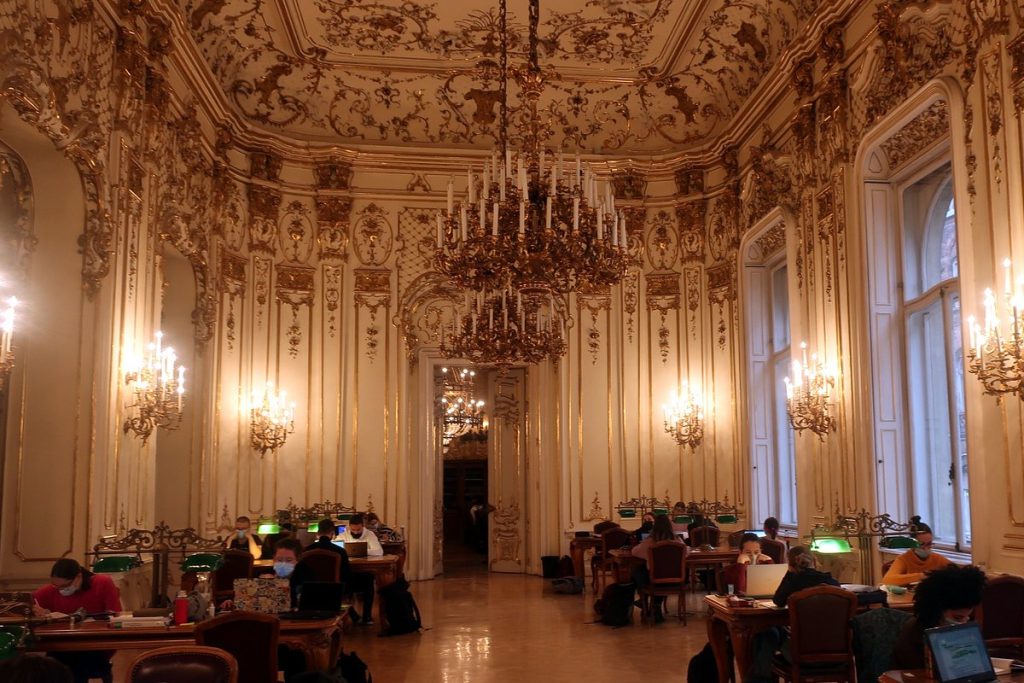 Metropolitan Ervin Szabó Library: Budapest's Literary Haven
Nestled in the bustling 8th district, near Kálvin Square, the Metropolitan Ervin Szabó Library is a treasure trove of knowledge, culture, and tranquility. Built in 1889 and serving as a library since 1931, this neo-baroque architectural marvel invites you to step into a world of endless possibilities.
A Journey Through Time and Space
As you walk through the grand entrance, you'll be greeted by elegant halls adorned with antique furniture and period rooms that exude a sense of history. The library's extensive collection spans genres, languages, and eras, offering something for everyone – from the casual reader to the dedicated researcher.
History
The library was originally built in 1889 in a neo-baroque architectural style and has been serving its current role since 1931. It was initially established in 1904 with a collection mainly focused on social sciences. Over the years, the library has undergone significant transformations, including a complete reconstruction between 1998 and 2001. Today, it stands as an impressive, world-class complex, boasting an area of 13,000 square meters.
More Than Just Books
While the library's primary allure is its vast collection of books, it's also a sanctuary for those seeking a serene environment for reading, studying, or contemplation. The comfortable armchairs and quiet corners provide the perfect setting to lose yourself in a classic novel or delve into academic research.
Collections and Services
The library's extensive collection spans across genres, eras, and languages. It also has a specialized collection in sociology, making it the largest of its kind in the country. The library has embraced information technology to offer a wide range of services, including analytical and recommendation bibliographies.
Architecture and Ambiance
The library's historic architecture offers a serene environment for reading, studying, and contemplation. The grand period rooms, antique furniture, and comfortable armchairs make it a place where one can easily spend an entire day exploring.
A Hub for Academics and Enthusiasts
The Metropolitan Ervin Szabó Library is not just a place for book lovers; it's a hub for students, researchers, and professors who come here to collect material and immerse themselves in their studies. The library's resources and ambiance make it an ideal place for intellectual pursuits.
Explore and Be Inspired
If you're not in the mood for reading, the library itself is worth exploring. The antique furniture, intricate designs, and period rooms are captivating, offering a glimpse into Budapest's rich history and culture. It's not uncommon for visitors to spend an entire day just soaking in the atmosphere.
Practical Information
The library is conveniently located near Kálvin Square, making it easily accessible by public transport. Whether you're a resident or a tourist, the Metropolitan Ervin Szabó Library is a must-visit for anyone looking to experience the literary and architectural heritage of Budapest.
Contact Information for Metropolitan Ervin Szabó Library (Fővárosi Szabó Ervin Könyvtár)
Related tags
Budapest
,
Metropolitan Ervin Szabó Library
,
Fővárosi Szabó Ervin Könyvtár
,
literary haven
,
historic architecture
,
extensive collection
,
book lovers
,
serene environment
,
storytelling magic
,
boundless world of ideas
,
könyvtár
,
library
,
cultural heritage
,
neo-baroque architecture
,
Kálvin Square
,
reading sanctuary