Újpest, also known as Budapest's 4th district, is one of the northernmost districts of the Hungarian capital. With a rich history and a blend of both traditional and modern elements, Újpest offers a unique experience for both residents and visitors.
Introduction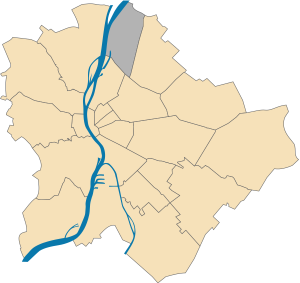 Founded in the 1830s, Újpest has grown from a small settlement to a bustling part of Budapest. Its name translates to "New Pest," indicating its origins as a suburb of the main city of Pest before the unification of Buda, Pest, and Óbuda.
Location
Újpest is located in the northern part of Budapest, bordered by the River Danube to the west. It's well-connected to the rest of the city, with the Metro Line 3 serving as a primary mode of transportation for many residents and visitors.
Geography
Covering an area of 18.82 km², Újpest is characterized by a mix of residential, commercial, and green spaces. The district's proximity to the Danube River offers picturesque views and recreational opportunities.
Landmarks
Aquaworld Budapest: One of Europe's largest indoor water theme parks.
Újpest Synagogue: A testament to the district's rich Jewish heritage.
Újpest FC Stadium: Home to the Újpest FC football team, this stadium is a hub for sports enthusiasts.
Demographics
As of 2022, Újpest has a population of 96,968 residents. The district has a diverse population, with a mix of young professionals, families, and elderly residents.
Education
Újpest is home to several educational institutions catering to all age groups. From kindergartens to high schools, the district ensures quality education for its residents.
Museums
While Újpest doesn't have as many museums as some other districts, it does boast a few cultural gems:
Újpest Local History Collection: Offers insights into the district's rich history and evolution.
Twin Towns
Újpest has fostered relationships with several cities internationally. Some of its twin towns include:
Conclusion
Újpest, with its rich history, modern amenities, and scenic beauty, offers a unique blend of experiences for everyone. Whether you're a history buff, a sports enthusiast, or someone looking to relax by the Danube, Újpest has something to offer.
Google maps of District 4