Pestszentlőrinc-Pestszentimre: Budapest's Haven of Natural Beauty and Historic Charm
On the southeastern outskirts of Budapest lies the 18th district, Pestszentlőrinc-Pestszentimre. This district is a delightful fusion of natural wonders, historical landmarks, and modern conveniences, offering tourists an alternative view of Budapest that is both enchanting and rejuvenating.
Introduction
Pestszentlőrinc-Pestszentimre may not top every tourist guide, but its unique blend of scenic parks, historical sites, and modern amenities make it an ideal destination for those looking to explore more than just the main tourist spots in Budapest.
Location
Geographic Profile: Pestszentlőrinc's Strategic Position in Budapest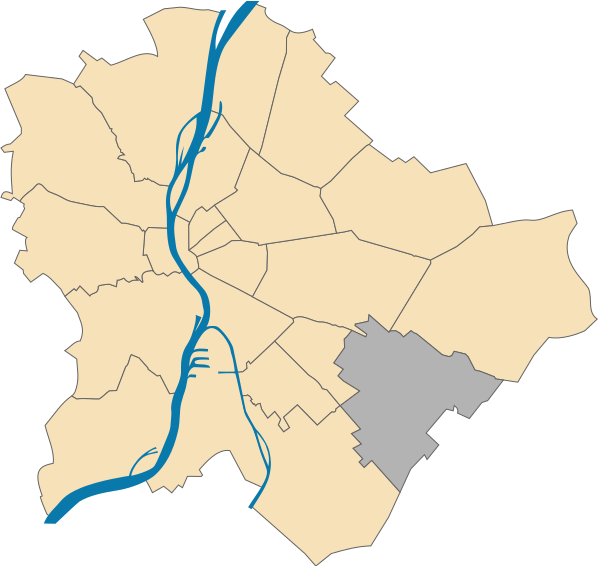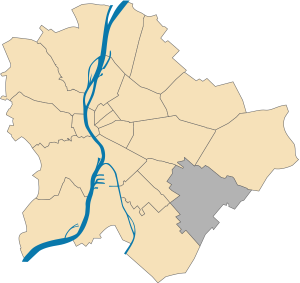 Pestszentlőrinc is strategically located in the south-eastern quadrant of Budapest, on the expansive Pest plain. The district is encircled by diverse neighborhoods and localities, each contributing to its unique geographic and cultural landscape.
Northern Borders
To the north, Pestszentlőrinc is flanked by Kispest and Kőbánya-Ujhegy. These areas are bustling urban zones, and their proximity offers Pestszentlőrinc residents easy access to a range of amenities and services.
Eastern Neighbor
Rákoshegy lies to the east of Pestszentlőrinc. This area, with its rich history and community life, is a natural extension for those looking to explore beyond the immediate confines of Pestszentlőrinc.
Southern Adjacencies
To the south, the district is bordered by Vecsés and Pestszentimre. These areas offer a slightly different pace of life, providing a contrast to the more urbanized northern borders. Vecsés, in particular, offers a more suburban atmosphere, which can be a refreshing change for those residing in Pestszentlőrinc.
Pestszentimre: An Integral Part of Budapest's XVIII District
Pestszentimre, once an independent settlement, was incorporated into Budapest in 1950, a significant year that saw the annexation of several other localities into the Hungarian capital. Today, it combines with Pestszentlőrinc to make up the XVIII district of Budapest, creating a multifaceted area that reflects a blend of historical legacies and modern urban development.
Historical Context
The annexation in 1950 was a pivotal moment for Pestszentimre, marking its transition from a standalone community to an integral part of Budapest's urban fabric. This incorporation expanded the city's territorial boundaries and enriched its cultural and social diversity.
Synergy with Pestszentlőrinc
Together with Pestszentlőrinc, Pestszentimre forms a district that is a microcosm of Budapest itself—offering a mix of residential, commercial, and green spaces. The two areas complement each other in various ways, from their shared historical timelines to their modern-day amenities and services.
District Characteristics:
The XVIII district, comprising both Pestszentimre and Pestszentlőrinc, offers a unique blend of urban and suburban lifestyles. While Pestszentlőrinc has its own attractions and amenities, Pestszentimre contributes its distinct flavor to the district. The area is known for its community-centric atmosphere, local parks, and a range of educational institutions, making it a desirable location for families.
Western Limits
Soroksár forms the western boundary of Pestszentlőrinc. Known for its own unique characteristics, Soroksár adds another layer of diversity to the overall geographic profile of Pestszentlőrinc.
The district's strategic location, surrounded by a mix of urban and suburban areas, makes it a compelling place for those who seek both the vibrancy of city life and the tranquility of less densely populated areas. Whether it's the bustling streets of Kispest and Kőbánya-Ujhegy to the north or the quieter, more suburban atmosphere of Vecsés to the south, Pestszentlőrinc offers the best of both worlds. Its geographic position thus serves as a microcosm of Budapest's broader urban tapestry, encapsulating the city's diverse range of lifestyles, histories, and communities.
Geography
Surface Formation and Terrains
The district is situated in the northern part of the Pesti Plain, characterized by terraces created by the Danube River during the last glacial period. These terraces are a result of the sedimentary deposits—sand, gravel, and clay—left behind by the river's varying flow rates. Over time, these deposits either accumulated or eroded, leading to the formation or destruction of surface features. Notably, the district also contains "gravel islands" within the alluvial deposits, such as those found along Szarvascsárda tér and Petőfi utca-Gilice tér. These areas reveal glacial till formations, including ice-breaks and gravel-bags, providing a window into the district's geological past.
Contemporary Landscape
Today, the district's topography is undulating, with a general incline towards the east. The highest elevation point is situated at the intersection of Álmos Street, marking the boundary between districts X, XVII, and XVIII, and stands at 149 meters above sea level. Conversely, the lowest point is located near the junction of Méta Street and Nagykőrösi Street, close to the Lajosmizsei barrier, at an elevation of 116 meters.
Water Systems
The majority of the district's surface water drains into the Gyáli stream, specifically its seventh branch. The Sósmocsár ditch, an artificial waterway, runs subterraneously along several streets before emerging as an open ditch that eventually flows towards the Danube River.
Hydrological Challenges and Features
The district also has a complex hydrological history. Marshy areas, remnants of the former Danube bed, persisted until they were drained in the 19th and 20th centuries. Despite drainage efforts, the varying depth of the subsoil clay layer poses a groundwater threat to certain parts of the district. This groundwater has also contributed to the formation of local lakes, such as Balázs Lake, which originated from an abandoned brickworks pit, and Büdös Lake, formed from a former mining pit.
Landmarks
The district has several landmarks worth visiting:
Pestszentlőrinc Church: A neo-Romanesque structure dating back to the early 20th century.
History
Pestszentlőrinc and Pestszentimre were two separate settlements until they merged in 1950 to form the 18th district. Both areas have a rich history that dates back to medieval times, and this historical charm is evident in the architecture and local traditions.
Education
The district is home to a variety of educational institutions, from elementary schools to vocational training centers, making it a suitable location for families and students.
Museums
The district doesn't have a large number of museums but offers quality over quantity:
District 18 Local Museum: This museum is devoted to the history and culture of the district, offering visitors an authentic local experience.
Twin Towns
Pestszentlőrinc-Pestszentimre enjoys twin-town status with several cities, including Nyírbátor in Hungary and Odorheiu Secuiesc in Romania, promoting cultural and educational exchanges.
Google Maps of Pestszentlőrinc-Pestszentimre (District 18)
Conclusion
Pestszentlőrinc-Pestszentimre is a perfect destination for those seeking a unique blend of nature, history, and modern amenities. Its lesser-known landmarks like the Pestszentlőrinc Church, coupled with its lush landscapes, make the 18th district an ideal getaway within Budapest for those seeking something different yet wholly captivating.