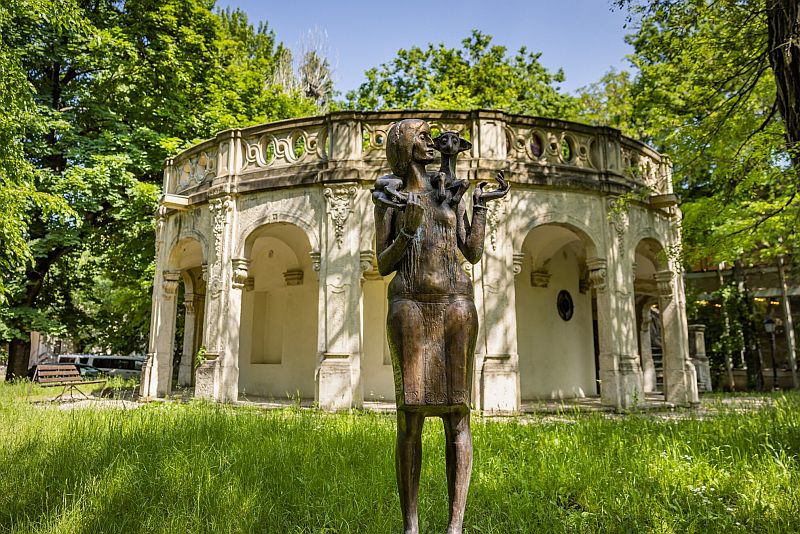 Discover the Hidden Gem of Budapest: Epreskert
Nestled in the heart of Terézváros, bounded by Bajza, Szondi, Munkácsy Mihály, and Kmety György streets, lies Epreskert. This lush historical park has been a hub of creative activity since the early 1880s. The park was initially an important site for silk production, owing its name to the mulberry trees planted for silkworms. Since 1921, it has been part of the Hungarian University of Fine Arts.
A Glimpse Through the Fence
While the park is not open to the public due to ongoing artistic activities, you can always peek through the fence to admire the dense vegetation and the sculptures that adorn it. The park is home to various university departments, including painting, sculpture, and set design, as well as metal, bronze casting, stone carving, plaster, and glass workshops. Special permissions or events are the only occasions when the park opens its gates to visitors.
A Rich History
Epreskert has a fascinating history dates back to the 17th century when mulberry trees were planted to support silk production. The area underwent significant changes in 1879 when artists began establishing studios here. Notable artists like Benczúr Gyula, Lotz Károly, and Székely Bertalan had workshops in Epreskert, contributing to its artistic legacy.
Architectural Marvels and Sculptures
The park is adorned with various sculptures and buildings in different styles, making it a visual treat for anyone who can get a glimpse. One of the most significant structures is the Calvary, a unique construction that was relocated to Epreskert to save it from demolition during the city's modernization efforts.
Annual Exhibitions and Events
The park occasionally hosts public class exhibitions where students display their works. These events offer a rare opportunity for the public to enter and explore this creative sanctuary.
A Creative Sanctuary
Epreskert continues to be a secluded space where young artists can work in peace. It's not just a park; it's a living, breathing entity that nurtures creativity and artistic expression.
So, the next time you find yourself wandering the streets of Budapest, make sure to take a detour to admire Epreskert—even if it's just from the other side of the fence.
Source of the Photo: Rockstar Photographers – We Love Budapest
Contact Information for Epreskert